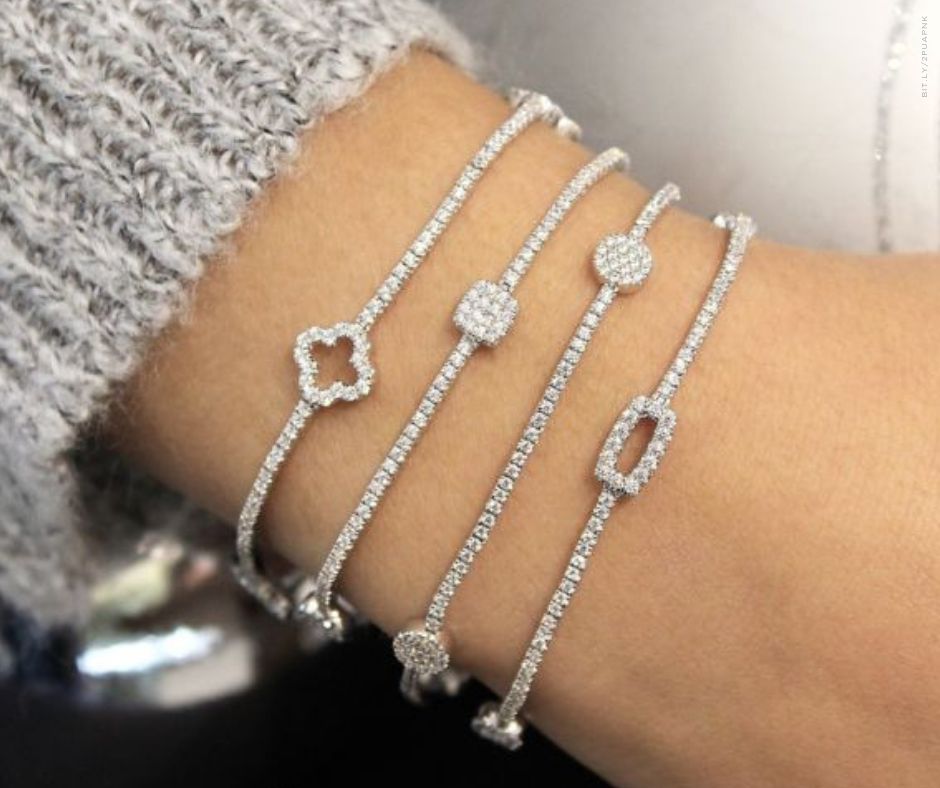 Timeless, gorgeous and as flexible as it is stylish; tennis bracelets have been glamorous gals' go-to for decades. That doesn't mean there aren't questions associated with this classic though! What characteristics should you look for when purchasing one? How do you style it once it's purchased, and how in the world did this small stunner get its name? We're glad you asked.
The History
You may not consider your favorite diamond-encrusted piece of jewelry as sports wear, but tennis legend Chris Evert begged to differ. During a particularly long rally in the 1978 U.S. Open, Evert's bezel-set "eternity bracelet" snapped off her wrist and went sailing across the court. Like any style setter would, she asked officials to stop the match until the lost bracelet was found, and the rest is history. "Tennis bracelets" became the  new moniker linked to lightweight diamond danglers everywhere, and jewelers began rapidly producing different cuts, carats, settings and metals to accommodate the new popularity.
The Fit
Part of a tennis bracelet's allure is the loose, flirty fit associated with it. It should feel more loose than your typical bracelet, but there should never be risk of it rolling off your hand. The sweet spot is found when your arms are resting by your side. If the bracelet slips down to where your hand begins, and you can still slide a finger easily in the space between your arm and your arm's newest addition, you've found your perfect fit.
The Essentials
Like many classics, tennis bracelets are designed to be able to wear anytime, anywhere; but in order to do that, you'll want to be sure that your wow-worthy eye-catcher is worth the investment. First and foremost, make sure the bracelet's secure. You don't want to experience the same feeling Chris Evert did when her's careened across the court. Look for a bracelet that boasts both a clasp and a safety latch, and double check that the setting is secured. Then, look at your potential piece's movement. Go ahead and dance around with your hands in the air. Outside of the looks you received, did anything else seem odd? Did the links awkwardly catch, or did the movement seem fluid? It's this flexibility that keeps your tennis bracelet from snapping, so don't be stingy with testing!
The Style
Whether at the office, out on the town or at the U.S. Open; a tennis bracelet's versatility has continued to prevail year after year. Whether worn alone to highlight your arms or stacked with a watch or other diamond bracelets; there aren't many style rules for these sparklers. Simply pair it with other accessories with similar styles, and get your army party started.
The Find
Both simple and sleek yet bold and beautiful, tennis bracelets are notoriously popular gift picks. Where do you do that picking though? That's important too! Here at Cecil's Fine Jewelry, we make it easy for you. Our expertly trained staff will help you find the most beautiful bracelet for your budget, but we won't stop there. From appraisal to sizing to an entirely custom design, Cecil's is here to be your jeweler for life.