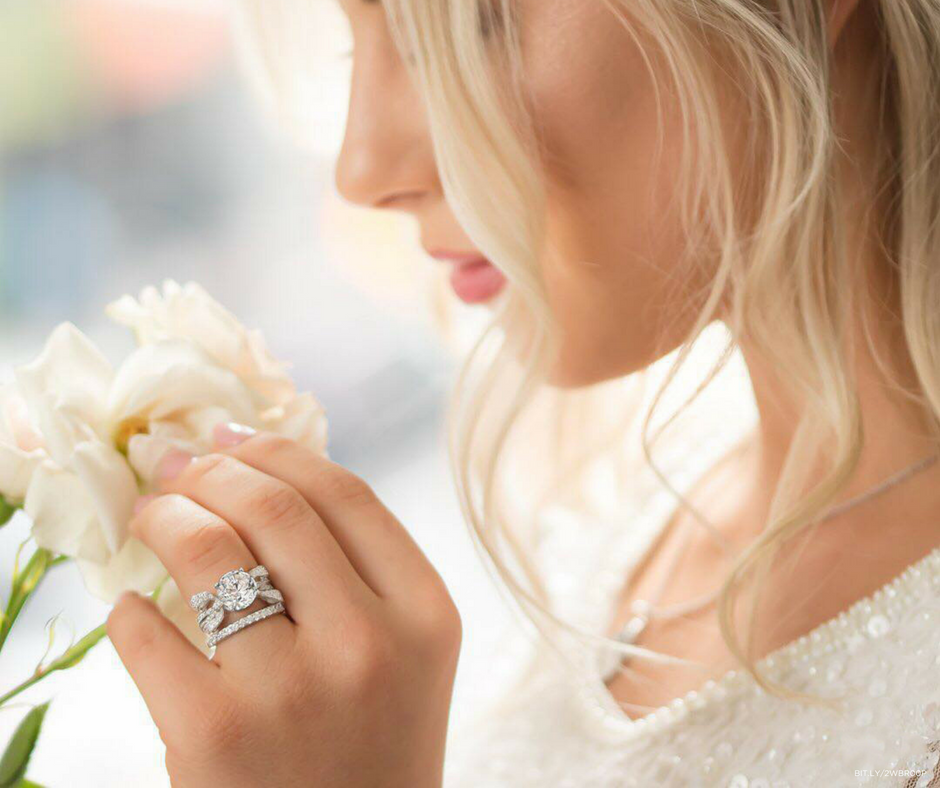 Your engagement ring has been the center of your hand's attention since the day your S.O. popped the question– and rightfully so! But with your big day around the corner, you're ready to upgrade that wow-worthy ring to become a dynamic duo, and your friendly staff at Cecil's Fine Jewelry is here to help. From traditional solitaires to three-stone stunners, learn some pairing tips and tricks from the pros.
If you have a solitaire:
No matter the cut of your diamond, solitaire engagement rings are classy, simple and ultra-versatile. While this type of ring will look lovely alongside any band, brides-to-be can easily upgrade this set from "simple" to "statement-making" with the addition of some sparkle. A timeless, traditional look can be created with a diamond band, or you could introduce something less expected, such as a curved ring, that frames the center diamond.
If you have a halo or three-stone ring:
If the unusual shape of halo or three-stone rings are causing you to feel stuck, the answer may be closer than you expect. The secret is to opt for a wedding band that shares a similar element with your engagement ring. So, if your center diamond is a round cut, lean into that style and accent it even further with round diamonds on your band à la the Hearts on Fire's Fulfillment Band. And as a failsafe, you can never go wrong with a pavé band.
If you have a gemstone engagement:
Brides who swoon over eye-catching colored stones should consider incorporating that same, fun flair into their wedding bands. If your center stone is sapphire, an alternating sapphire and diamond band is a good way to create a seamless combo, without competing for attention against your engagement ring.
If your ring is unusually shaped:
We've seen a surge in unusually-shaped engagement rings over the past decade, and we've found that often, the "less is more" adage rings (pun intended) true when it comes to pairing. Whether a simple, pavé pretty or a custom band that complements your engagement's curves, you'll make a statement with this outside-of-the-box beauty!
At the end of the day, shopping for the perfect pairing for your engagement is a once-in-a-lifetime experience, so have fun, follow your heart, and don't be afraid to ask for help. Our jewelry team is expertly-trained and can't wait to be your jeweler for life.